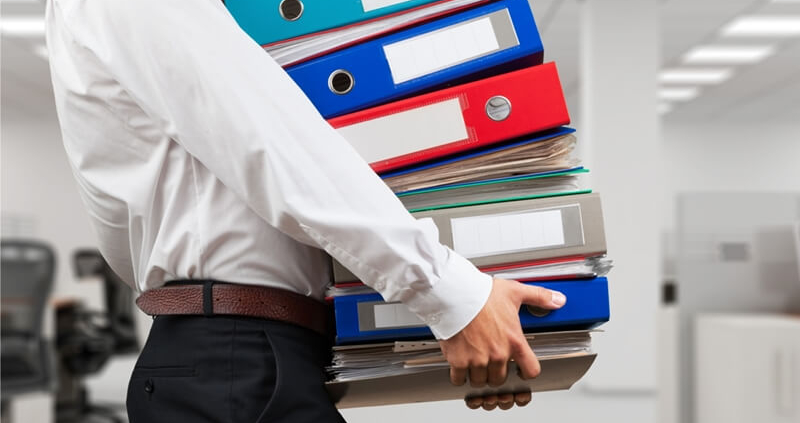 As thousands of workers are starting to get back to their regular workplace, Organisations are forced to consider shredding sensitive documents no longer needed, that workers have kept at home during the pandemic.
With employees returning, office work environments must be reorganised to comply with physical distancing following HSE guidelines.
This often implies changing the layout of the workplace and placing tables and chairs further apart in order to maintain a 2-metre worker separation. Decluttering the workplace and clearing out files that are no longer required can significantly help in that regard.
Data Protection through data destruction
Shredding all sensitive documents that have passed their retention period will not only improve the safety of the work environment but will also have a significant impact on data security.
Not properly handling confidential documentation represents a legal risk to the company as businesses need to be in compliance with GDPR rules and regulations and institute good inhouse practices to protect their personal and commercially sensitive information.
Organisations are responsible for all data supply chains, so the proper processes must be implemented to diminish any potential risks of a data breach. This means that all sensitive information should be handled and destroyed securely.
At DGD shredding, we understand the importance of using the services of secure shredding specialists. We are one of the biggest and most competitive companies in Ireland and provide Nationwide on-site & off-site shredding services.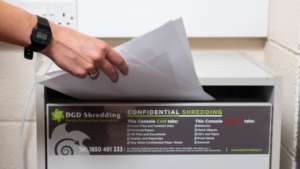 Our off-site and on-site shredding services are proven to be some of the most dependable and efficient across Ireland. We ensure a smooth process all the way through. We can satisfy all your business shredding needs and certify all of the shredding work we do so that you remain in compliance with EU legislation and GDPR obligations without any complications or disturbances.
Our commitment to the environment
By opting for our professional shredding service, your business is contributing to a cleaner and greener world. Our work doesn't end when your documents are shredded. We incorporate recycling into the shredding process, so all the shredded paper is sent for recycling and turned into tissue products such as kitchen rolls & toilet paper. All without compromising security and confidentiality.
https://www.dgdshredding.ie/wp-content/uploads/2020/06/Getting-back-to-the-office.jpg
582
800
michaelg@dgdpapers.com
https://www.dgdshredding.ie/wp-content/uploads/2023/05/logo-long-for-header-2-300x83.webp
michaelg@dgdpapers.com
2020-06-17 14:43:51
2020-08-19 14:27:12
Getting Back To The Office