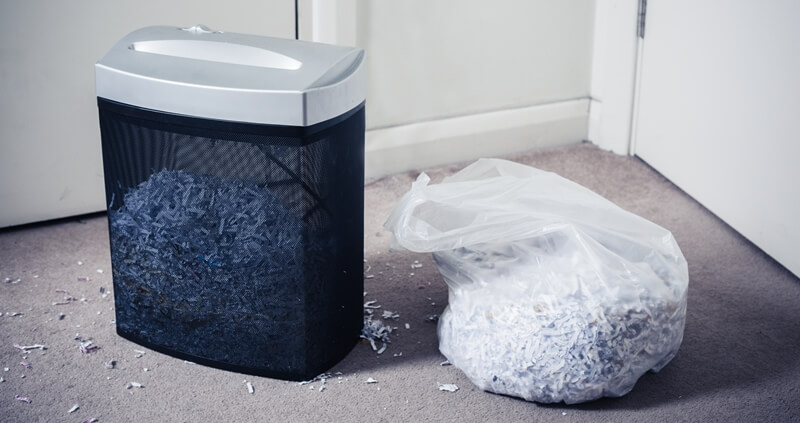 Document destruction is an integral part of most businesses' data security, with shredding being the most popular way to destroy physical data.
In this post, we have put together some of the most common doubts and misconceptions about professional shredding services. If you are currently undecided regarding the use of a professional shredding service for your documents, below you will find all the information necessary for you to make a conscious decision.
I don't think my company's volume of business justifies signing up for a regular shredding service. Nevertheless, the shredding pile keeps getting bigger. How can I save by using a shredding service?
If your documents are usually disposed of by using your small office shredder, you are already increasing your costs by consuming valuable staff time. Not only that but having your own shredder adds to maintenance costs and may sometimes leave you stranded when the shredder breaks.
Furthermore, disposing of the shredded material in recycling bins or dumpsters is a serious liability. Anyone could get access to the remainders and leave with pieces of information you would want to remain confidential.
A secure paper shredding service takes care of all of these issues. Garda vetted, fully trained staff will collect your items and carry out their complete destruction following all certified procedures.
Isn't it too expensive to use a certified Shredding service provider?
When you consider the importance of data protection reliability to a company's reputation, and how a data breach can damage that reputation, the cost of the service may not even be considered an expense at all.
A certified shredding service provider will dispose of all your sensitive information, ensuring that all your confidential data is destroyed and cannot be recovered or end up in someone else's hands.
In terms of service cost, you can choose the plan that best suits your business needs. As a top professional shredding Service provider, we can collect your data on a daily, weekly, monthly or even quarterly basis depending on how many times you wish to dispose of it.
You can make your own data destruction plan, and match the cost with your specific needs, voiding all the complications and expenses a possible sensitive data breach could cause.
The latest document destruction provider was not reliable. Can you guarantee a better experience?
Not all professionals and/or businesses are the same. The best way to assure yourself a secure and reliable service is to use a certified destruction service.
DGD Shredding is one of the largest professional destruction providers in Ireland.
To deliver secure document destruction, we are regulated with certified standards through an ISO9001:2008 Quality Management System, including EN15713 Secure Destruction of Confidential Data Code of Practice, ensuring your information and data are securely destroyed. According to this certification, DGD is audited annually by NQA to ensure compliance with both quality parameters.
DGD also maintains an ISO14001:2004 for Environment Management System which comprises all environmental aspects of its activities.
With DGD Shredding, you can be sure that all your confidential data is destroyed following the highest industry standard. Certificates of destruction are provided for all data shred.
If you need to dispose of any other media containing confidential data, you should contact DGD to put any further questions forward or set up your hard drive & media destruction plan.
Contact us by mail: info@dgdshredding.ie or telephone us at 1850 491 333.
https://www.dgdshredding.ie/wp-content/uploads/2020/08/Small-paper-shredding-machine.jpg
423
800
michaelg@dgdpapers.com
https://www.dgdshredding.ie/wp-content/uploads/2023/05/logo-long-for-header-2-300x83.webp
michaelg@dgdpapers.com
2020-08-19 14:04:17
2020-10-29 14:11:55
Is a Professional Shredding Service the Right Choice for Your Business?