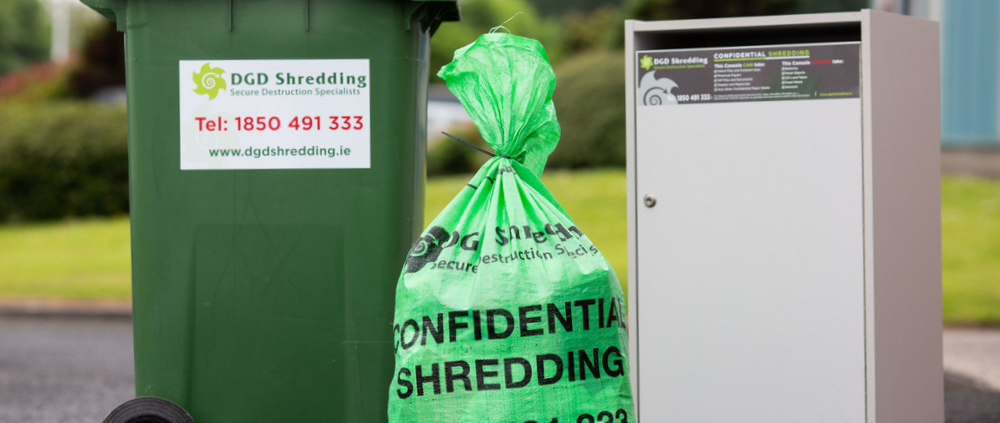 In this week's blog, we at DGD Shredding are looking at the most important details and reasons for why shredding should be left to the experts, and why it is time for your business to switch! If you are a small or large business, then choosing shredding services from professionals is a worthwhile investment in order to maintain your privacy for both the benefit of your company and customer data, as well as compliance with EU legislation and GDPR obligations.
Here are the top reasons for leaving shredding up to the experts;
Security  
Keeping sensitive documents past there retention period presents a legal risk to your company with new GDPR legislation.  Responsibility of whole data supply chain resides with the organisation and it is vital that the correct processes are in place to mitigate any potential risks of a data breach. With a secure shredding specialist, your business will be provided with locked receptacles to store your sensitive information until it is ready for destruction. Your business can have peace of mind that sensitive information is destroyed in a safe and reliable manner.
We at DGD Shredding offer a service that will guarantee a strong chain of custody from your location to a secure facility. Our expertise and decades of experience in the shredding industry has allowed us to offer a reliable and diligent process that guarantees confidentiality for your business's shredding needs.
Data Protection
Organisations must be able to demonstrate compliance with GDPR and introduce good housekeeping practices to protect their personal and commercially sensitive information. There are many laws and legislation in place to ensure companies have necessary processes in place to securely destroy confidential documents and data that has passed its retention period.
As of May 2018, the law regarding Data Protection across the EU has changed. With the new GDPR requirements in place, all organisations are now required by law to be fully transparent in the usage and safeguarding of personal data, and in implementing measures to show accountability for their data processing activities. DGD offers a strong chain of custody and trustworthy process so that all your sensitive information can be handled and destroyed in a secure manner.
Cost
We all know how time-consuming shredding with an office shredder can be! When you outsource your document shredding, you avoid using employee time to complete the process. In-house paper shredding takes time and often takes away from an employee's regular job duties. Office shredders will mostly just cut documents into strips, which may not completely prevent data breaches from occurring.
The services we offer utilize industrial scale machinery which enables documents to be destroyed to the highest shredding standard. Hiring a professional shredding service will prove to be cost effective and beneficial in the safeguarding of document destruction and the prevention of data breaches within your organisation.
Environment
Opting for a professional shredding service, your business can take steps towards a cleaner and greener world. Recycling 1 ton of paper saves around 682.5 gallons of oil, 26,500 litres of water and 17 trees. Our service does not finish when your documents are destroyed, we incorporate recycling into the destruction process without compromising confidentiality. Following the destruction process, all shredded paper is bailed and shipped directly to paper mills where it is then recycled and made into various paper products. Our service gives your business the ability to create a healthier environment in today's world!

DGD shredding is one of the largest, most competitive shredding services in Ireland, we are here to provide you with peace of mind that all sensitive information is handled and destroyed in a secure manner. DGD knows the importance of guaranteed shredding services, so we present you with a Certificate of Destruction following the shredding process.
We make it our business to make sure no one knows yours!
If you have any questions about our services, you can contact with us today at info@dgdshredding.ie or telephone us at 1800 491 333.
https://www.dgdshredding.ie/wp-content/uploads/2019/08/DGD-Process-050.jpg
666
1000
michaelg@dgdpapers.com
https://www.dgdshredding.ie/wp-content/uploads/2023/05/logo-long-for-header-2-300x83.webp
michaelg@dgdpapers.com
2020-01-29 17:28:09
2023-06-08 11:14:32
Reasons Why You Should Leave Shredding up to the Experts