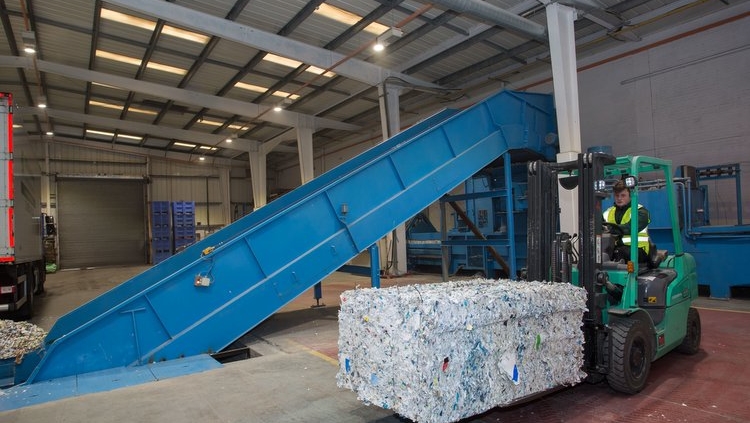 There is an exceptional amount of confidential wastepaper passing through our offices and homes every day. As you may know, holding onto sensitive documents past there retention period presents risks to your business. Disposing of sensitive data not only allows for a potential data breach, but also creates an unhealthier environment due to these documents being sent to landfill.
By opting for a professional shredding service, your business can take steps towards a cleaner and greener environment. Recycling 1 ton of paper saves around 682.5 gallons of oil, 26,500 litres of water and 17 trees. Our service does not finish in our shredding facility, where your documents are destroyed, we incorporate recycling into the destruction process without compromising confidentiality.
With our services, you are choosing an environmentally friendly solution for your destruction needs. Since 1998, we have saved approximately 1.5 million trees by recycling our post-processed material. Currently, our shredded paper is sent for recycling and is turned into tissue products such as toilet paper and kitchen roll.
We strongly believe in accounting for all environmental impacts our company has on the environment. Leading from the top, Liam and Mark take environmental considerations into account for every decision where an impact is likely. We work to minimise our environmental impact; from the vehicles we use, the equipment we operate, to our supplier's and our own operational processes.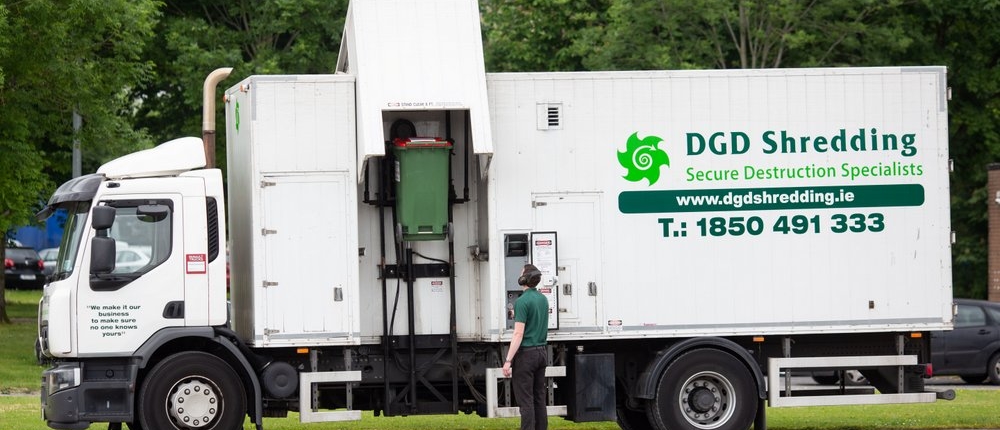 Our Fleet and Transport
We operate a modern fleet of vehicles conforming to the Euro 6 emissions standards. Our vehicle selection process accounts for emissions, fuel efficiency, reliability and maintenance.
Our own full-time mechanic who maintains our fleet to the highest of standards; the more efficiently the vehicle operates the less fuel it uses and therefore less emissions.
The fuel our fleet runs on is the highest quality diesel fuel from reputable sources and we monitor our usage on a monthly basis to review our consumption. By knowing your environmental impact, you can manage it.
We optimize our service schedules to ensure the most efficient routing not only to provide reliable services to clients but also manage our fuel consumption and emissions
Our Plant
We operate highly efficient Shredders and Baling equipment in our Destruction Centre that minimise electricity consumption. Our equipment is set to recognise periods of inactivity and shut off. Additionally, our equipment can be set to different performance rates depending on the activity being carried out, so the machinery does not need to be at full capacity if it doesn't need to be.
Our Facility
All the lights in our facility are LED low energy consumption lights. We are in the process of constructing a new development that will incorporate numerous environmental considerations throughout the project.
We aim to not only have the most secure and advanced Destruction Centre, but also the most environmentally efficient one.
Our Recycling Commitment
We aim to recycle where possible all materials we handle. We directly place our recyclables into mills and over 95% of materials we handle are recycled.
From materials that cannot be recycled, the materials are sent for Waste to Energy processes.
Our Environmental Standards
We operate an ISO 14001 Environmental Management System (EMS) that is independently assessed and accredited annually. This EMS shows our commitment to the environment.
DGD shredding is one of the largest, most competitive shredding services in Ireland, we are here to provide you with peace of mind that all sensitive information is handled and destroyed in a secure manner. DGD knows the importance of guaranteed shredding services, so we present you with a Certificate of Destruction following the shredding process.
We make it our business to make sure no one knows yours!
If you have any questions about our services, you can contact with us today at info@dgdshredding.ie or telephone us at 1850 491 333.
https://www.dgdshredding.ie/wp-content/uploads/2019/09/DGD-Shredding-079.jpg
501
750
michaelg@dgdpapers.com
https://www.dgdshredding.ie/wp-content/uploads/2023/05/logo-long-for-header-2-300x83.webp
michaelg@dgdpapers.com
2020-02-11 11:35:03
2021-02-05 13:48:32
Shred, Recycle, Repeat